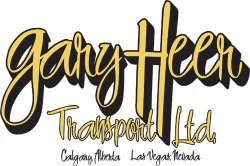 Gary Heer Transport

1903, 4637 MacLeod Tr. SW

Calgary, AB T2G 5C1

Phone: 403-287-2222

Fax: 1-888-587-9285

Email: ghtransport@shaw.ca (preferred method of application)

Education: Completion of High School

Must have class 1 (or A) with Air Brake (Z) endorsement

More than 2 years experience

Must speak English

Must be able to cross border

Subject to Pre-Employment and random drug and alcohol testing

Operate and drive straight or articulated trucks to transport goods and materials. Loading and unloading of goods (up to 23 KG/50 lbs), tarping and ensuring safety and security of cargo. Plan travel schedules and routes using atlases and other trip planning aides. Oversee condition of vehicle and inspect tires, lights, brakes, oil, grease and other equipment. Perform minor brake adjustments. Monitor vehicle performance and mechanical fitness. Perform preventative maintenance. Perform minor emergency roadside repairs.

Pay: Company pays per mile with a minimum weekly earning of $600.00/30 hours of work per week. Driver's must work 30 hours MINIMUM per week up to maximum hours permitted by federal regulations on a log book.
---