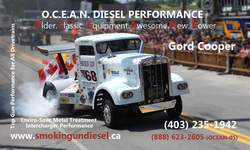 Gord Cooper does it all. He's the driver behind the Smokin Gun Race Truck which is well known across North America for speed and thrills on the quarter mile race track. His acreage is home to the Kenworth Museum of KW Antiques dating back to the early 1900's. Gord is also an engineer and those talents are sought after to plan and safely execute some of the toughest hauls in the industry. Only word to describe Mr. Cooper: Wow.
---

LIKE US ON FACEBOOK: Click Here
The Wowtrucks Facebook Community is one of Canada's Largest Online Trucking Communities. Truck images and videos are posted daily. Share your truck on Canada's Big Rig Community!
---