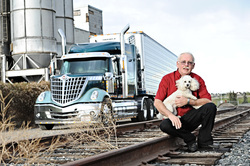 Gary Heer is a great example of a quality owner and driver in the Canadian Industry. Owner of GH Transport based in Calgary, Alberta Gary hasn't given up the road yet. He still regularly hops in his Lonestar and hauls loads along the highways of Western Canada and the USA. The superstar poodle you see in Gary's arms is Trixie, his faithful roadie. Gary strikes a cool balance: to his customers hes known for quality service and to his drivers an owner great to work for. Keep it up Gary. The transport sector needs more people like you.
---
Does trucking run in your family?
Consider having David Benjatschek, photographer behind Wowtrucks® come out and do an on location family truck shoot.

Contact David at 1 800 701 2498 or by email: david@wowtrucks.com for details.
---