We'll be drawing for this awesome custom Iphone 5 case and a Two Pack of the 2015 Wowtrucks® Calendar on November 30th. Just enter your ballot information below. The winner will be contacted directly and announced on the Wowtrucks® Facebook Site and here on this page December 1, 2015.

One entry per person per month. Good Luck. Call us with any questions at 1 800 701 2498.
---
By entering the contest you agree to receive the new Wowtrucks® Canadian Driver Profile email quarterly. They will be full stories and photos of your favorite rigs across the country. You'll be able to unsubscribe at any time should you wish.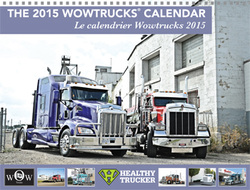 Order the 2015 Wowtrucks® Calendar Here.
The perfect Holiday gift for the truck enthusiast in your life. The Wowtrucks® has celebrated 13 Canadian Rigs and their drivers since 2008. It is a premium quality and slightly oversized wall calendar (12.5 inches wide by 18.5 inches tall when open)
Order Online by Clicking Here
or
Call us Toll Free at 1 800 701 2498
---
Wowtrucks is Canadas Big Rig Calendar and Canadas Big Rig Community on Facebook. Founder and Photographer David Benjatschek also creates calendars for private fleets each year. If you would like a great customer calendar, contact David at 1 800 701 2498 or email him at david@wowtrucks.com