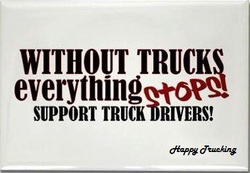 Some drivers feel they get no respect. Its hard to fathom but some dispatchers feel they get no respect. Some customers feel they get no respect. There are times when I feel I get no respect. How about you? How well do you feel respected for the very important job you do as a professional driver carrying our economy and family livelihoods on your back?


KNIGHTS OF THE ROAD

As I've had the honour to serve the North American transport sector in many capacities over the last 25 years (where does time go?!) I've heard the older warriors of trucking talk about a time when truckers were considered the Knights of the Road. They were respected and honored. The industry didn't have as much trouble attracting young drivers into it because of that image.

In many ways I do the Wowtrucks Calendar and corporate leadership/team training to celebrate modern day "Knights of the Road" and their trucks. I love building people up. There are way too many things that try to tear us down in this world. Some people say that the Knight of the Road era is over. I say they still do exist. I see them everyday. I've met with them. I admire who they are and what they do. I tell their stories in word and photo. I engage with them in workshops and seminars.

Yet I think it's true to say that it doesn't always feel that way. Outside of transport industry media good guys like John White at Pro-Trucker Magazine, James Menzies at Truck News, Rolf Lockwood at Today's Trucking and many more.. mainstream media is primarily focused on whats wrong. They focus on unsafe loads, bad drivers, accidents, injuries and unfortunate fatalities on the road. You can almost feel an us vs them (trucker driver vs the general public) mentality starting to build more and more. That mentality in any relationship is never healthy. It doesn't lead to reconciliation or better relationships. It's usually a downward spiral to a toxic relationship. An us vs them approach is not the path back to Knights of the Road status that so many of you deserve.

So here is the Question of the Day:

What can each one of us do as individuals to start rebuilding the general public's trust and respect for the transport industry and the professional drivers in it?

I want your opinion on what you have seen work. Give us your opinion by leaving a comment on this blog.

Before you comment please read these important points:

​Please notice that the question is framed in such a way that it puts responsibility for the solution(s) on us and no-one else. It is human nature to blame someone or something else when we aren't happy. Over the years I've seen it all. I've seen the good, bad and ugly. I've seen blame put on Government, on Companies, on Bosses, on newer immigrant groups on different generations and on the general public. While some of those complaints do have some truth to them, that attitude is NEVER helpful because it only divides people instead of bringing them together towards a solution. There is an old proverb that tells us "If you are perfect then go ahead and throw the first stone". I'm not writing this blog because I am perfect. So many of you know I'm far from it. I celebrate awesome drivers in the Wowtrucks Calendar but I"m sure that while they are pretty darn close, they aren't perfect either. Solutions to gaining more respect WILL depend on every driver and person in the industry taking individual responsibility for their choices.

I'm asking you to provide suggestions on what YOU can do to make a difference for the good. There are 3 players in this game called respect. They are YOU, Them (everyone else) and the Environment (the industry rules/regulations, truck design etc). I'm old enough to have learned that I don't control THEM at all and I don't have complete control of the Environment (if you have successfully told government what to do, let us know how!) The only player that I do control is myself and what I choose to do in any situation. My experience in life is that when I take control of my actions in a positive way it actually starts to have some influence on the 2 other players.

So I am asking you for your advice: What can each one of us do to regain a bit of the "Knights of the Road" era ? What can each one of us do to rebuild the levels of trust and respect exchanged between the trucking community and the general public?

I know this is a hot topic for many of you. I look forward to your responses! Leave them as a comment below.

David

David Benjatschek
Wowtrucks: Canada's Big Rig Calendar
Find us on Facebook: Canada's Big Rig Community
1.800.701.2498
Photography: www.wowtrucks.com
Company Leadership & Team Building Workshops: www.authorenticity.com
"Showcasing and Empowering Canadian Transport"